Office Cleaning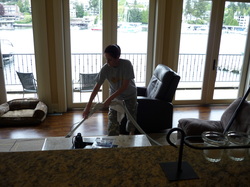 The appearance of your office space affects the performance of your employees and the response of your clients. Nothing says "we are dependable" like an impeccably clean office space. If you doubt this, go to a bank in a dirty, stained shirt, and ask for a loan.

The staff at Dynamic Cleaning Services can provide the clean sleek look that your business and brand require. We are customer-based, detail-oriented service industry. Everything we do is marked with absolute care—from our staff (carefully selected, rigorously trained, certified, and insured) to our systematic checklist approach.



· Office Space

· Kitchen Space

· Bathrooms

· Floor Rooms

· Dusting

· Mopping

· Vacuuming

· Waste Removal

· Window Washing

· Pressure Washing

· Carpet Steam Cleaning

· Carpet Repair

We could go on . . . Trust us, the list is exhaustive!

Dynamic Cleaning Services provides service to the Greater Seattle Area. But regardless of our provider service area, we'll give you the attention that makes you feel like we only work with you. Don't wait, for a free estimate contact us today!


---